About us
The Bridgin' Drama theatre group was established in 2009 by the Bridge, English Language Centre. It was founded by a group of English teachers who share a love for the English language and who are also passionate about theatre.
At the outset, scenic readings were held in the Medical Gardens but this quickly developed into full-scale productions at a regular venue.
We found our forte in adaptations of Slovak theatre classics, which we bring to modern audiences with humour and levity.
By using set texts produced in English, we attempt to develop our students' interest in our culture, bring them closer to the staples of Slovak literature and, at the same time, improve their language skills.
Bridgin' Drama has also taken up the challenge of developing tourism in the capital. We are the only theatre in Slovakia which offers tourists an opportunity to learn something about our culture, philosophy and traditions in a language they understand.
We are the theatre that connects; welcome to our world. 🙂
David Mamet: Speed-the-plow
First scenic reading in the Medical Gardens at the project Reading room.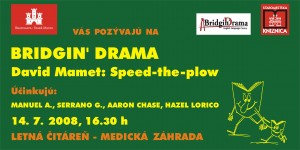 Shake Shakespeare
Dramatic reading for high schoolers in the Medical Gardens.
Hillary Fannin: Mackerel Sky
Dramatic reading for the public at Magio beach.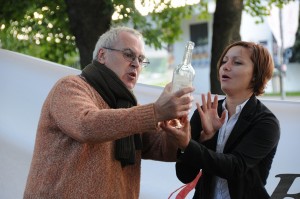 Tajovsky ruulezz!
Premiere of our first Slovak classic in English.
Summer performances for tourists
Summer performances of Tajovsky ruulezz! for tourists at the  Zichy palace.
Kukucheers
Premiere of Kukučín ´s Red Heifer in English .
Bridgin´ V4
First year of the Festival of English Speaking Theatre in Pezinok.
Just Another Cup of Tea
Premiere of an adaptation of the satirical play Tea at the Senator´s by Ivan Stodola.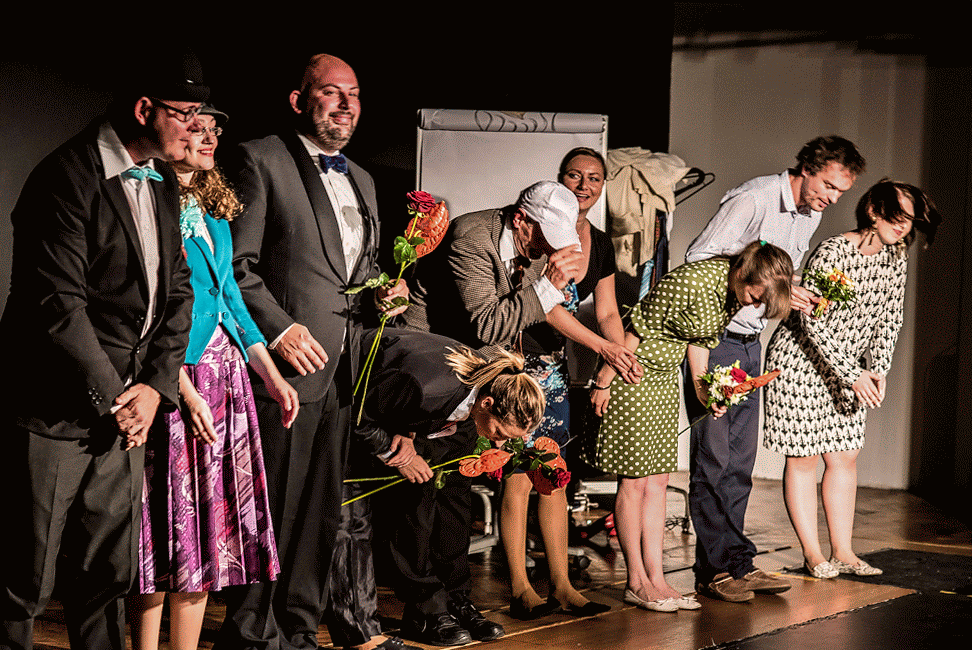 A Loop for Twoo
Premiére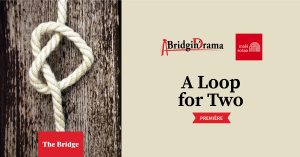 MASTERCLASS WITH SHAKESPEARE
Premiere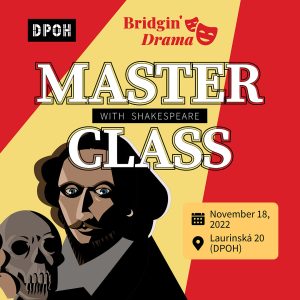 Actors
Aaron Chase

USA

Speed-the-plow

Andrea Pristašová

Slovakia

Just Another Cup of Tea

Angelika Horváthová

Slovakia

A Loop for Two

Anna Katarzyna Kolkowska

Poland

Tajovsky Ruulezz!

Arnika Presutto

USA

Kukucheers

Barbora Nováková

Slovakia

Kukucheers

Christina Vollbrecht

USA

Tajovsky Ruulezz!, Mackerel Sky, Shake Shakespeare

Dale Bruton

Great Britain

Kukucheers, Tajovsky Ruulezz!

Daniel Bóna

Slovakia

Tajovsky Ruulezz!

Daniel Hall

Great Britain

A Loop for Two

Daren Oldring

Great Britain

Just Another Cup of Tea

David Rubin

USA

Just Another Cup of Tea

Donal Greene

Ireland

Tajovsky Ruulezz!

Gianluca Grasso

Italy

Tajovsky Ruulezz!

Guillaume De Canck

France

Masterclass with Shakespeare

Gregory Fabian

USA

Kukucheers, Just Another Cup of Tea, A Loop for Two, Masterclass with Shakespeare

Hazel Lorico

Canada

Speed-the-plow

Katarína Matiašovská

Slovakia

Tajovsky Ruulezz!

Manuel Serrano

USA

Shake Shakespeare, Speed-the-plow

Maria Evangelou

Greece

Just Another Cup of Tea

Mária Horská

Slovakia

Just Another Cup of Tea

Michaela Čilíková

Slovakia

Just Another Cup of Tea

Michaela Mozolová

Slovakia

Shake Shakespeare

Michaela Šuľáková

Slovakia

Tajovsky Ruulezz!

Michaela Vrábová

Slovakia

Kukucheers, Tajovsky Ruulezz!, Mackerel Sky, Shake Shakespeare

Mike Bacon

Great Britain

Mackerel Sky

Nevena Popovic

Great Britain

A Loop for Two

Tomas Haramule

Canada

Tajovsky Ruulezz!

Sami Huttunen

Sweden

Masterclass with Shakespeare